<![if !vml]>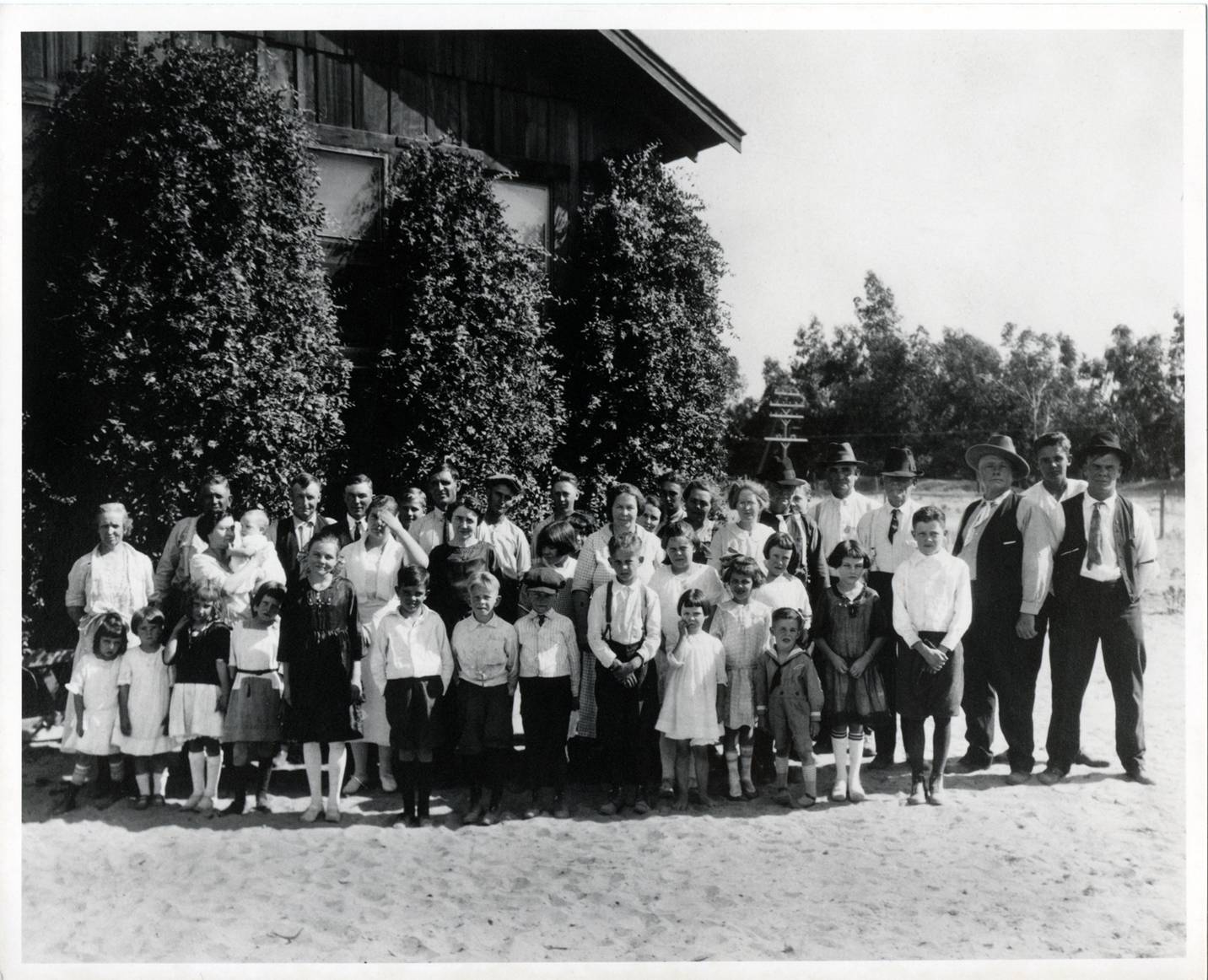 <![endif]>
This picture I received from Maxine (Failing) Sloat in about 1990. On the back is written:
"1922 Family reunion at Wallace's, in Winton.
(This area is now occupied by Castle Air Base Hospital.)"
"Back row:
      Aunt May Laird – Uncle Alex Wallace – Violet Wills Handy – baby George Wills Handy – Marvin Wills – Charlie Peard – Myrtle Peard – Edward Wallace – E. Fern Owens – Mary Owens – Letus Wallace – Nevelle Laird – Forrest Laird – Sadie Hamilton – Pansy Wills Huffman – Royal Laird – Aunt Jennie Wallace – Aunt Leona (Onie) Laird – Uncle Porter Laird – Terry Laird – Uncle John Laird – Uncle Sam Laird – Uncle Dave Laird – Leland Wallace – Paris Hamilton –
Front row:
      Natalie Huffman – Nevelle Wallace – May Irene Laird – Virginia Laird – Maxine Failing – Vernon Huffman – Paris Hamilton Jr. – Ben Handy Jr. – Emmett Hamilton – Merle Hamilton Willits – Kathryne Handy Smith – Merle Huffman Milosevich – Veryl Laird – William Huffman – Roberta Handy Dayton – Bert Failing."
      When I try to identify each face with a name, it appears there is at least one face not identified in the list—a face peeking over the right shoulder of Sadie Hamilton barely visible in front of Forrest Laird in the center of the picture. Letus Wallace is the one wearing the flat cap in the back row and Forrest Laird is just to his left. Jennie and Alex Wallace were my grandparents.
      Maxine is in the front row in a dark dress, and I presume the identification of the names was done by Maxine sometime after 1956, because Kathryne Handy wasn't married to Grant Smith until 1956.